Courses at Cyrenians Employment and Training Ltd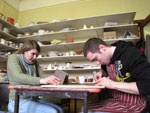 Cyrenians Employment & Training Ltd (CET) offers an extensive community-based training and learning programme.
Courses have regular start dates throughout the coming year. Please contact us for further details.
Our centres provide a friendly welcome with a supportive and informal atmosphere for people wanting to learn new skills, get a qualification or improve their prospects of finding and keeping a job.
The programme includes arts, crafts, language, literacy, numeracy, ICT, health & safety, first aid and food safety courses which we hope mean that CET offers something for everyone.
Whatever your ambitions for the coming year, we hope we can help.
Below is a list of the courses on offer. Our programme is currently being reviewed and full details of courses available from September 2012 onwards will be included here in due course.
Please Note: Courses are subject to change and availibilty.
Arts and Craft Programme
Art, Craft and Design
Ceramics
Fashion and Accessories
Introduction to Glasswork
Mixed Media
Music
Photography
Key Skills
Basic Skills
Personal Development
ESOL (English for Speakers of Other Languages)
I.T. (Information Technology)
Healthy Living
Training
First Aid
Food Safety
Glass Work
Health & Safety
Retail Training