Careers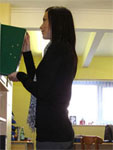 Employment at Cyrenians Employment and Training is rewarding and the opportunities afforded are wide-ranging. Here you'll find our current vacancies listings and downloadable application packs to get you started.
The downloadable application packs (available in both Word and PDF formats) contain the advert, job description and person specification for each vacancy.
Please ensure that you read through the information and forms before you begin. It is important to complete the forms as thoroughly as possible. 
Applicants who do not meet all of the essential criteria will not be considered for the post.
Current Career Opportunities
Cyrenians Employment & Training Ltd are not currently looking to fill any vacancies.
If you have any enquiries please contact Human Resources by e-mail:
or phone 01792 467926